29
Oct
SHADAR EDGAR: the talent from the northwest region of Cameroon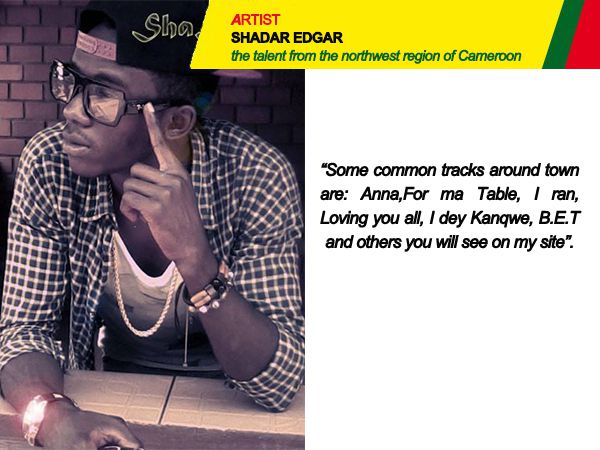 His real names are Tita Edgar, and he goes by the name Shadar Edgar, and he comes from the northwest region of Cameroon.
This natural talent loves music, especially rap music (Afro Rap, Hip hop and RnB). He is presently a free artist but works in collaboration with Reality Records, Headed by Polycarp, his DJ.
He started singing since he were 8, and wrote his first son to his classmate when he ended having to compose one for their school on PTA as authorized by the head teacher.
"I took some time to concentrate in getting my exams through the O/L and A/L, till this moment where i think is good for me to come out". It was a full motivation for the reasons to sing.
He is presently a student of the St Louis university, reading Physiotherapy in 2nd year. He has sang alongside artist like, M2B, 2 NICE, RAZA RAPS, STRANGE LIGHT, KAREN, and others, where he called to rap on their tracks. He also still fighting his way to the top and with the way i do what he done hardly. He thinks that Cameroon will be his limit because the style he want to improve is way out of what many of our fellow artist here in Cameroon try to copy. He think that the major problem faced is getting what he has done up to this level reach the public, so he is in deep need of a manager and to know if anyone is to look into what he done keenly and definitely make names together.
"Some common tracks around town are: Anna,For ma Table, I ran,Loving you all, I dey Kanqwe,B.E.T and others you will see on my site".
For now you may see his tracks on Reverbnation (Shadar Edgar/Reverbnation.com) and you can also follow him on Facebook (Shadar Edgar) and Twitter (@balotellivs).
@debonsk / Maxime 2KONGUI